Included Features

Efficient online registration system that is streamlined for both entrants and directors.
AUTOMATED RACE DAY DATA BASE
The online registration system automatically builds race directors a database that allows you and the entrants to view  who has entered, confirm their own entry and also to sort the entry fields by each of the registration  categories.
TIMING SYSTEM
The RaceManager Pro system automatically turns your registration process into a race timing system that you can use to manage the timing for your race event. The timing system is anefficient way to enter times based on race number, and in utilizing this system the times will also automatically populate your results page in real-time.
ALL TYPES OF EVENTS
You can use RaceManager Pro to manage single events such as running or biking events. You can use it for dual events, such as the timing for a 5K and 10K run that are performed simultaneously. It can also be used to run triathlons that are either mass start or events that have heated starts, such as multiple heats starting in a swimming pool.
RESULTS POSTING
Included in the system is the online posting of results for your race that is sortable based on name, number, age, gender, teams, or by the finish times for an event. You can also sort by individual splits in multisport events. i.e.-in a triathlon you would be able to sort the fastest swim, bike or run times individually.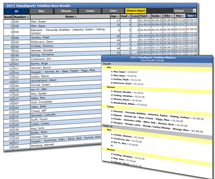 Results posting also happens in a real-time fashion. Since our system is web-based, all posting of times is 'real-time' and can be followed by people not present at the event. Times could even be checked on an i-Phone for example.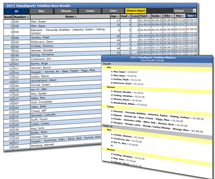 WINNER REPORT
Our sortable results also come with a "Winners Report" function. With one click of a button you are able to see the top four placers in every category. This makes the end of your race so much more efficient and easy. No more waiting around for hours while you try to figure out who got which place in which category. Just click the "Winners Report" and start giving out your prizes!
RACE DIRECTOR EDIT FUNCTIONS
Now you can change information about your entrants while maintaining the integrity of all of their other data. With RaceManager Pro you can adjust errors in entries for age, gender, shirt size, and also edit times that may be errantly entered.
HEATED RACE FUNCTIONS
For races with heats, the system allows you to adjust when each heat will start, how long it will last and adjust which participants are in each heat. Heats are initially set up by their estimated swim time for triathlons to make your job of race organization that much easier!